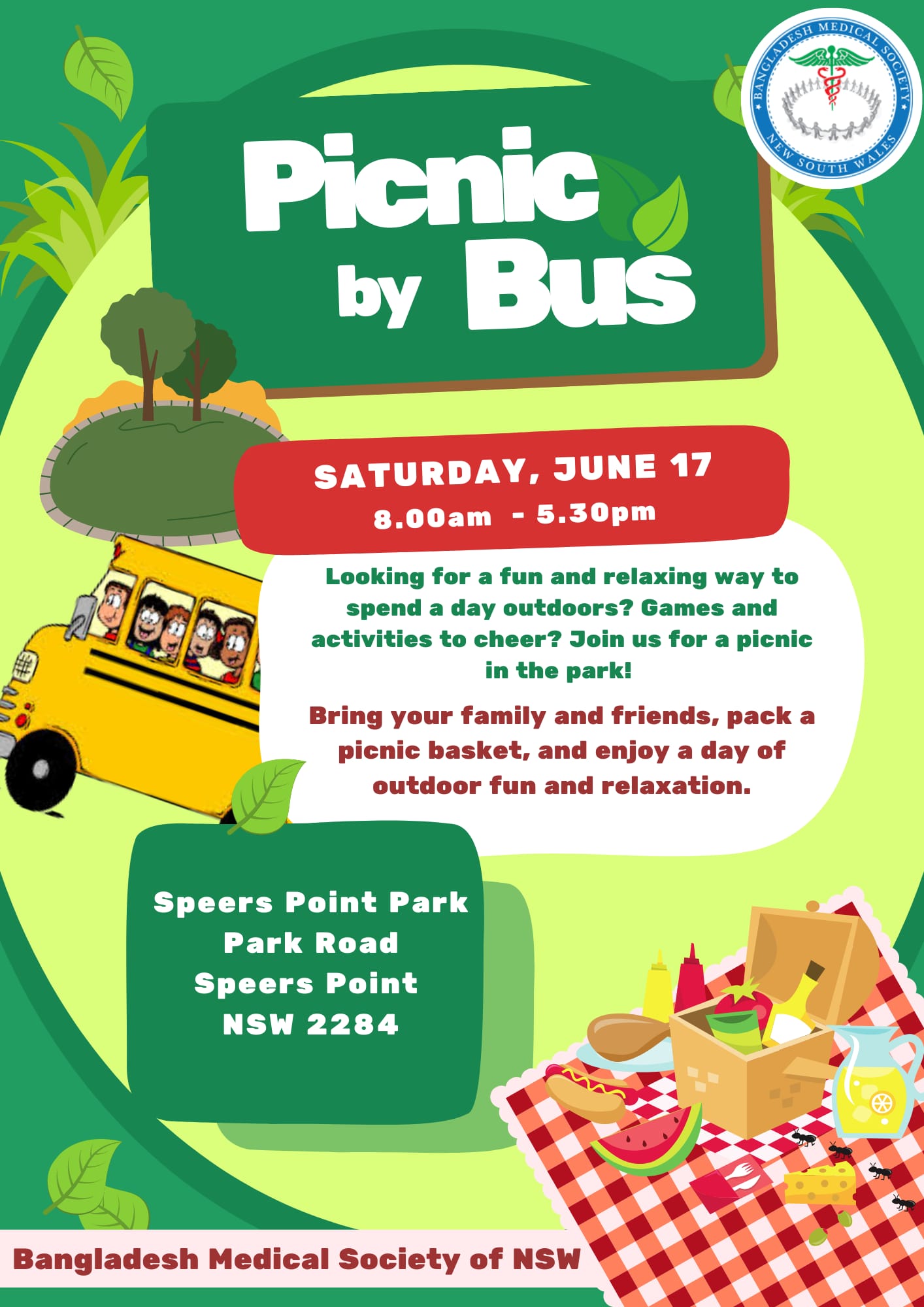 "BMS DAY OUT: A PICNIC BY BUS"
https://www.eventbrite.com/e/bms-day-out-2023-a-picnic-by-bus-tickets-638663488687
The link will allow you to pay directly without any hassle, so please do not transfer money to the BMS account or any personal account. It is essential to disclose the number of participants to allow everyone to get a seat on the bus; the driver will only allow additional passengers if they are infants.
Last date of registration: Sunday midnight, 11th of June 2023
Since we received overwhelming responses and enquires, we recommend registering as soon as possible if you plan to attend; we have 250 seats available.
DATE: Saturday, 17th of June 2023
VENUE: Speers Point Park, Newcastle
HIGHLIGHTS OF THE PICNIC:
FREE RETURN BUS TRIP from Sydney to Newcastle
LIVE MUSIC (professional and ours own)
Premium quality BREAKFAST
BUFFET LUNCH (fresh & locally cooked)
INDOOR & BOARD GAMES (ক্যারাম, লুডু, chess etc)
OUTDOOR GAMES (কাবাডি, Cricket & Football etc)
REGISTRATION FEES
General members (non-AMC)
Adult & Children >12 yo: $60
Children (5-12 yo): $40
Kids (<5-year-old): Free
General members (AMC category & Newcastle Residents)
Adult & Children >12 yo: $40
Children (5-12 yo): $30
Kids (<5-year-old): Free
Please take this opportunity to have a memorable bus journey, mingle with your friends and family, and strengthen our friendship and bonding. Please don't hesitate to contact the Cultural Secretary (Keya 0402 13477) & Organizing Secretary (Masud 0414 713 938) for more details.
Kind Regards,
Dr Rokeya Fakir Keya
Cultural & Social Welfare Secretary

—
A/Prof Reza Ali

President

Bangladesh Medical Society of NSW

Dr Faizur Reza Emon

General Secretary

Bangladesh Medical Society of NSW